Travel along Highway 101 to experience the best of the west coast on our Oregon road trip. Spend your summer happily sandwiched between the Pacific ocean on your right and mountain ranges to your left.

You'll begin in bustling Portland, then escape the crowds as you make your way through national parks and forests – stopping by several peaceful seaside destinations.

Whether your preferred mode of transport is trolley, trekking or traveling in a canoe, our guide for a summer you'll never forget can take you there.
Stops on this Route:
What to drive:
Make the most of your US road trip with something from our American Collection: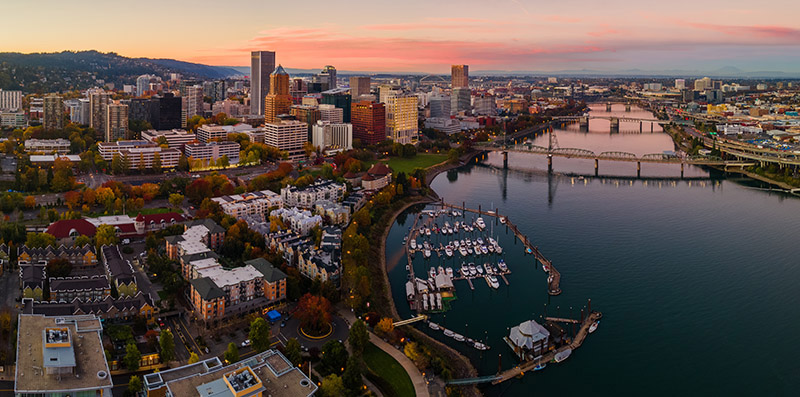 Oregon's largest city is famous for its beautiful parks, mountain ranges and the Willamette River that flows through it.

The City of Roses sits in the shadow of Mt Hood, a snow-capped stratovolcano. It's a popular hiking spot and gives access to the stunning River George and surrounding waterfalls.

If trekking isn't your thing, check out the city's museums, eateries and stores. Grab a bite at St. Honoré Bakery, then head down to the Pearl District to explore a host of local retailers.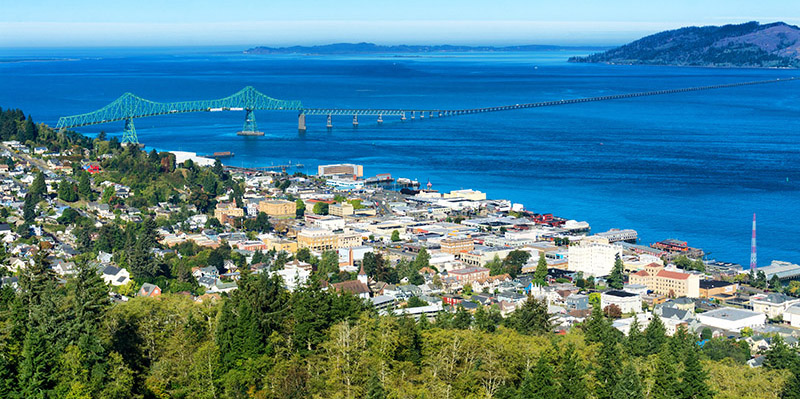 After a two-hour scenic drive beside the Columbia River along US-30, you'll reach the state's oldest city, Astoria.

It's home to the Old 300, a vintage streetcar that winds along the waterfront. Hop on and off this heritage trolley and wander along peaceful piers lined with independent stores.

If exploring has helped you work up an appetite, jump off at Bridgewater Bistro for fresh Oregon seafood. Keep your eyes peeled for seals and sea lions and get your camera ready to snap the impressive Astoria-Megler Bridge.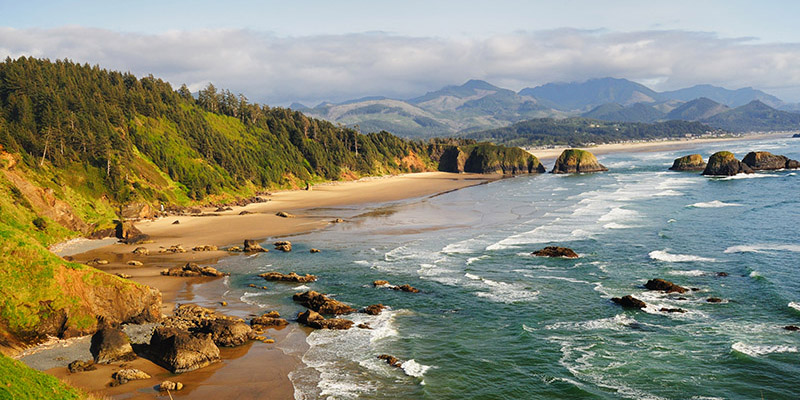 A lazy 30-minute drive south along the coastal US-101 takes you to Ecola State Park.

This nine-mile stretch of coastline promises perfect picnicking spots and waves lapping against the shoreline – making for one of the most idyllic spots on the West Coast.

The park covers all terrains, from deep green spruce forests to soaring mountains and epic shorelines. Follow in the footsteps of Lewis and Clark, climb up to Tillamook Lighthouse for breathtaking views or explore Indian Beach for a spot of sun and surf.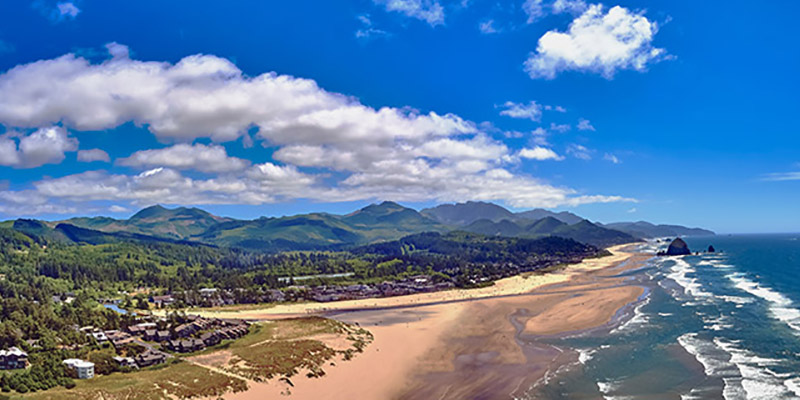 If you're looking for a spot to rest your sand-filled shoes, the nearby town of Cannon Beach is a great spot to recharge.

Take a day to explore parts of Oregon culture and history in this quaint destination. Catch a show at Coaster Theater or, if you're lucky, time your trip and immerse yourself in one of the town's colorful arts festivals.

When you're ready to take a break, stop by The Wayfarer for classic American fare. Or pick up a sweet treat at Crepe Neptune.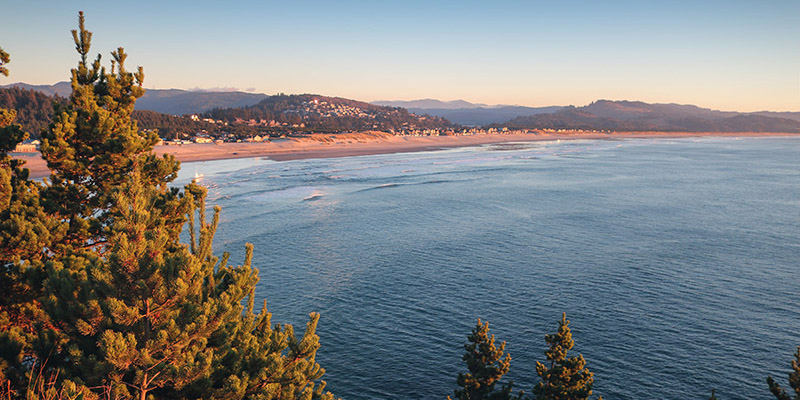 You'll travel 90 minutes south along US-101 to picturesque Pacific City next.

Here, you'll find a tiny Tillamook town that's one of the best places to experience Oregon coastal life. Whether you want to relax on the shores of Pacific City Beach or take on an intrepid trail beside Cape Kiwanda, this understated town has plenty to dive into.

Food is a big deal here too. Discover local cuisine on catered food tours or enjoy wandering the streets to find a few hidden restaurant gems.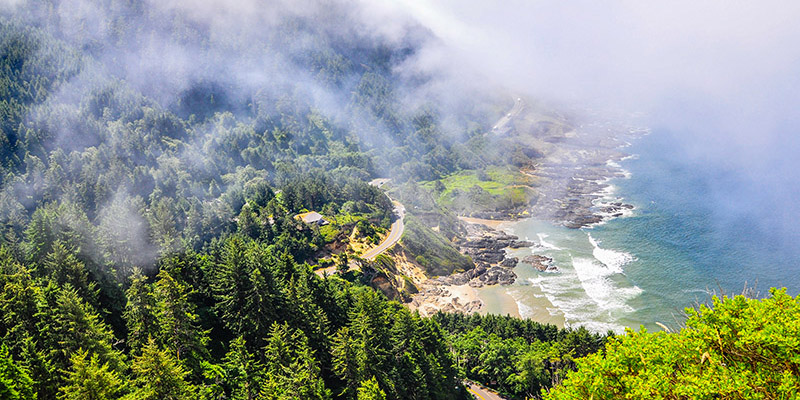 The 630,000-acre Siuslaw National Forest is just two hours from Pacific City along the Oregon Coast Highway.

It's part of the magnificent Oregon Coast mountain range, which connects the Columbia river to California. From the sand under your feet, to the forest pines towering overhead, get lost in the green-turned-blue landscapes found in this majestic area.

You can navigate the four major rivers that flow through the forest. Then, once you're done exploring, camp out under the stars at one of nearly 40 forest campgrounds.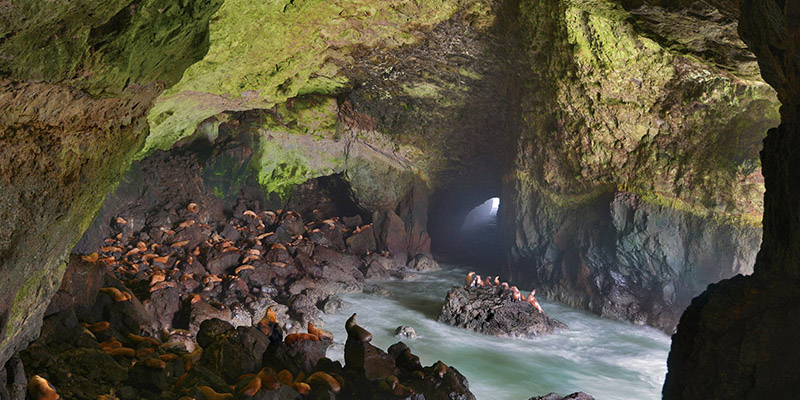 Take a relaxing hour's drive out of the forest, past Heceta Head Lighthouse, and you'll arrive at Sea Lion Caves.

No prizes for guessing what's waiting for you when you venture inside. It's home to around 200 sea lions and is America's largest sea cave, forming part of the Cape Perpetua Marine Reserve.

You'll no doubt come face to flipper with whales and a variety of marine birds during your visit. Descend into the beautiful caves to get up close with some of Oregon's most fascinating wildlife.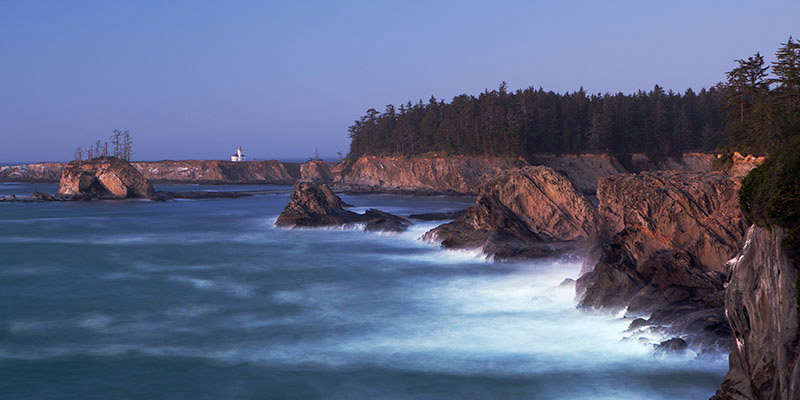 As you continue an hour south along US-101, you'll find the coastal hub of Coos Bay.

The city boasts an incredible mix of green and sea, with forests to get lost in and Pacific shores to spend relaxing moments. Alongside its natural parks, Sunset Bay, Shore Acres and Cape Arago, Coos Bay has a wealth of cultural attractions, including Coos Art Museum.

Once filled up on culture, fill up your stomach with some of Oregon's finest coastal cuisine at The Boat Fish & Chips or Coach House.
After a well-deserved rest, enjoy the two-hour scenic drive to Samuel H. Boardman State Scenic Corridor.

Get your climbing boots ready to explore 12 miles of rugged rocky plains. The climbs are totally worth it when you ascend one of the corridor's spectacular viewpoints.

Choose from a collection of well-marked trails that lead you through the wilderness, across sandy paths and over sea stacks. From Cape Ferrelo Viewpoint to Natural Bridge, each step you take mirrors the journeys of past gold seekers and explorers.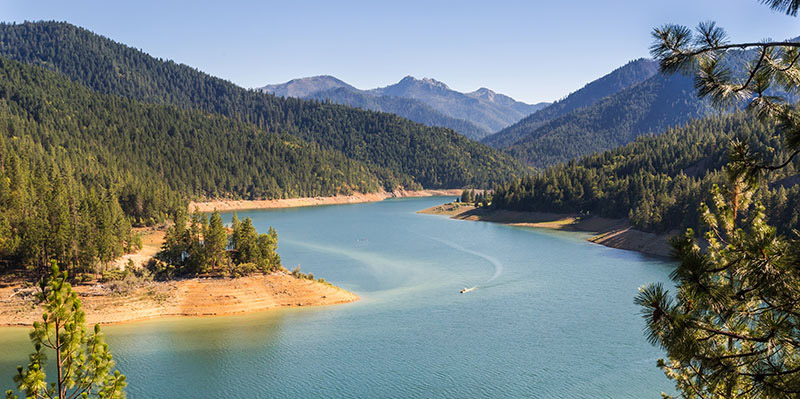 Your final stop is a 90-minute drive that skirts the edge of California and the rambling route of NF-1107, leading to Rogue River-Siskiyou National Forest.

Roam through colorful meadows, over peaceful lakes teeming with wildlife and across the mainly mountainous terrain. You'll be rewarded with views that are impossible to forget – this really is the place to 'go rogue', as the River's motto says.

After visiting, you'll take US-199, crossing into California and back into Oregon toward Medford, where you'll finish your trip.