Italian food has become synonymous with rich tomato-based pizza and pasta, but driving your rental car through traditional Tuscany opens the door to many lesser-known culinary delights.
Cross through Florence, Siena, Lucca and Pistoia on the hunt for some of Italy's hidden treats. Often made with local produce, game, meat and fish, the traditional dishes of Tuscany are wholesome and flavorsome.
From cured meats to refreshing salads and hearty loaves, the Italian food scene has so much to offer it's hard to know where to start.
Taste your way through the rolling hills of Tuscany with our guide to the best foods and where to eat them.
The 10 best foods in Tuscany
         Lampredotto Sandwich
         Cacciucco
         Lardo di Colonnata
         Ribollita
         Pappa al Pomodoro
         Bistecca alla Fiorentina
         Castagnaccio
         Panzanella
         Pici Cacio e Pepe
         Crostini Toscani
1: Lampredotto Sandwich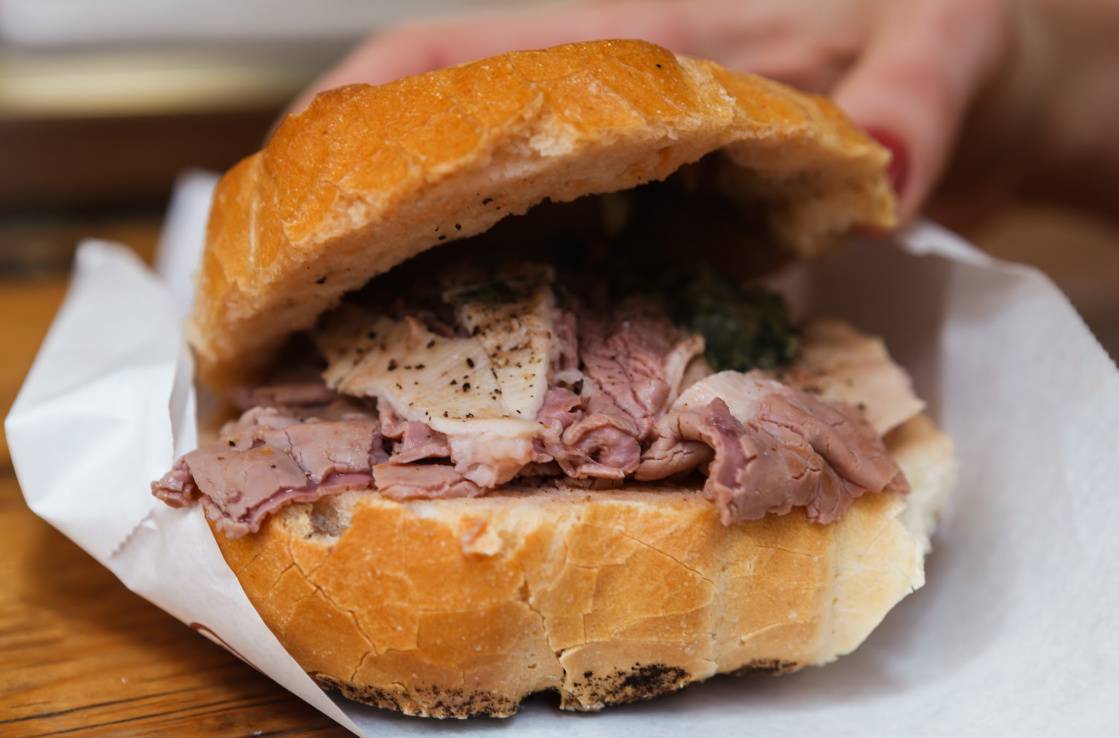 A lampredotto sandwich is a staple of Florentine street food. It's a daily presence in many of the city's squares and piazzas.
The lampredotto itself is actually tripe, and comes from the fourth stomach of a cow. It's then cooked in a hearty broth before being served on fresh bread with salsa verde or a spicy sauce.
Have it wet for a dripping and delicious sandwich, soaked in meaty broth. You can grab your sandwich at most street stalls, butchers or cafes, but our top pick is Da Nerbone, a traditional food stall on Piazza del Mercato Centrale in Florence.
2: Cacciucco
This tasty fish stew makes use of Tuscany's abundant coastline. It's particularly popular in coastal and fishing towns like Livorno, where the waters are rich with seafood.
With a sauce made from red wine and fresh tomatoes, it has an acidic twang and a spicy edge that's simply unmissable. Every chef has their own take on Cacciucco. Some include up to 13 different types of seafood in their creations.
Typically, your meal will contain whatever fish has been caught and delivered that morning. La Pina D'Oro in Livorno is a great place to try out this dish. The menu is bursting with traditional Tuscan meals, reimagined by the chef without hampering the original taste.
3: Lardo di Colonnata
This cured pork is a delicacy local to the Apuan Alps village of Colonnata. It makes an ideal bruschetta topping. Colonnata itself is surrounded by marble caverns and mines, and it's these caverns that provide the curing for Lardo di Colonnata.
Rectangular strips of pork are placed in marble molds and left to cure for several months, alongside rosemary, garlic, sea salt and cracked black pepper. The meat takes on the color from its marble mold and emerges a crisp white.
Many restaurants and chefs create their own version of Lardo do Colonnata, but nowhere does it quite like in Colonnata. Ristorante Venanzio is a top pick if you're in the area.
4: Ribollita
The name of this warming soup dish literally means 're-boiled'. It's made by twice boiling a mix of beans, onions, carrots and a variety of cabbages in a rich stock to create a deep flavor.
A popular winter meal, Ribollita is the perfect option for fueling your Tuscan adventures during the colder months. Have thick-cut bread to mop up every drop.
Trattoria Marione on Cia Dell Spada in Florence is a great place to enjoy this typical Tuscan dish, just a few steps away from one of the most elegant areas of the city. It's the perfect spot to combine rustic, heart-warming food, with the modern elegance of Italy.
5: Pappa al Pomodoro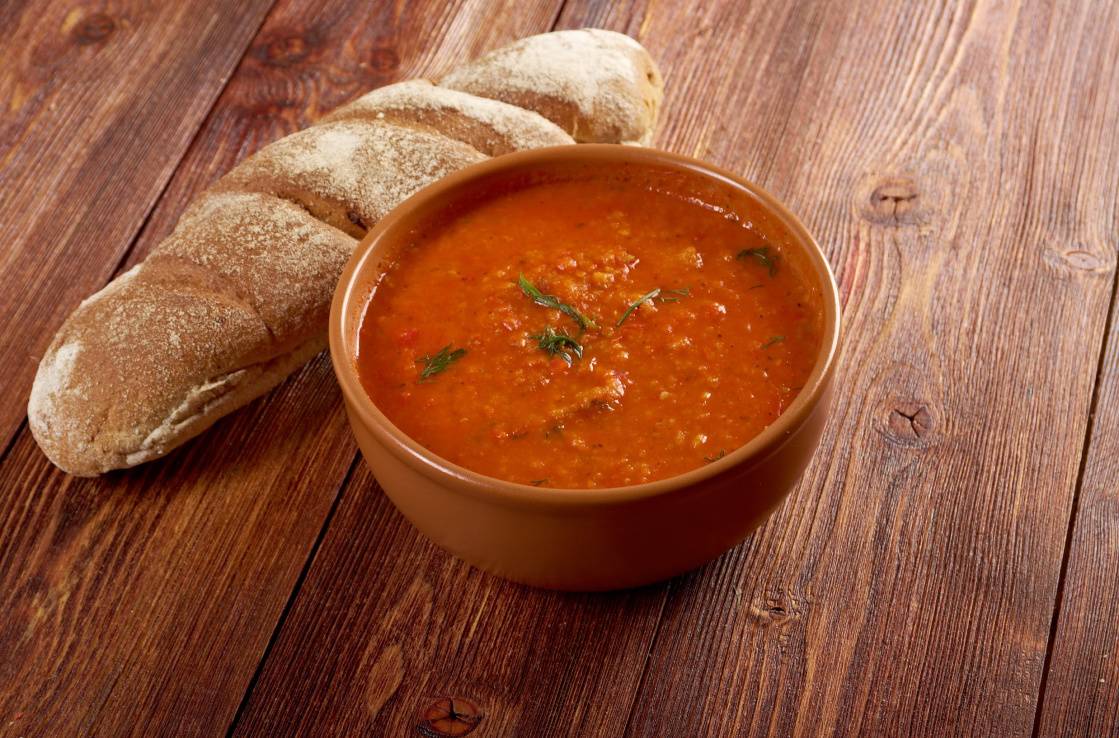 Another warming favorite, Pappa al Pomodoro is one of Tuscany's ultimate comfort dishes. It might only take a few everyday pantry items, but getting this dish right is all about the quality of produce.
It's best when made using ripe tomatoes, crisp basil leaves and fresh, zingy garlic. Wipe your bowl clean with as much bread as you can manage – you won't want to waste a drop.
Traditional Florence restaurants will typically have Pappa al Pomodoro on their menus. Our pick of the bunch is Trattoria Coco Lezzane in the heart of historic Florence.
6: Bistecca all Fiorentina
This traditional Florentine T-bone steak is rarely found outside of Tuscany. The meat is cut from Chianina cattle, which are only bred in Tuscany, meaning there's nowhere in the world that has steak like Florence.
The beauty of the steak dish is often in its simplicity. Traditionally grilled on a high heat and served rare with cannellini beans and salad.

There are so many great restaurants and steak houses in Florence that it's hard to choose a favorite. Family-run Ristorante Il Latini along Via dei Palchetti is certainly one of the most traditional.
7: Castagnaccio
Castagnaccio is a flat cake made from chestnut flour, olive oil, pine nuts and various dried fruits. It's not your typical sweet dessert but is delicious paired with a small glass of sweet dessert wine from your favorite Tuscan vineyard.
Chestnuts have been a mainstay in Tuscan cuisine for generations thanks to their abundance and filling nature. The exact recipe for Castagnaccio often varies from region to region, and even from family to family.
Some of the tastiest examples can be found in the towns and villages around the Apennine mountain area.
8: Panzanella

The perfect balance of light and filling, Panzanella is a popular dish throughout Tuscany. Every cook has their own take on this bread salad. Still, the main ingredients will always be an unsalted bread, tomatoes, red onion, basil, olive oil, salt and vinegar.

The sweet flavors of the red onion combine with the tartness of the vinegar and acidity of the tomatoes to create a refreshing salad dish that's light enough to enjoy on a summer's day.
The addition of the bread means Panzanella can also be enjoyed as a heartier meal in the winter. Our favorite place to tuck into Panzanella is Ristorante Borgo Antico on Piazza Sant Spirito in Florence.
9: Pici Cacio e Pepe
Everyone knows Italy is renowned for its pasta dishes, and nothing beats the traditional and authentic taste of handmade Tuscan pasta. Pici Cacia e Pepe is a dish made from pici pasta, traditional Italian Pecorino cheese and cracked black pepper.
The pici itself is a thick, chewy noodle that originated in the medieval city of Siena. Head off the beaten track to the cozy Osteria Cacio e Pepe just outside of Siena for one of the best examples of how this traditional dish can really pop.
10: Crostini Toscani
Often found surrounded by fresh salamis, capers and salted anchovies, Crostini Toscani is a hugely popular starter and antipasto choice for many Tuscan families. The dish consists of a hearty bread, not too dissimilar to a French baguette, topped with a smooth and creamy chicken liver pâté.
The chicken liver is often simmered with onions, carrots, and celery for added substance, texture and flavor. Boccadama Restaurant on Piazza di Santa Croce is a great place to taste this Tuscan classic.
Add some flavor to your Tuscan road trip with car hire from Hertz. Pick your rental car up in Florence and explore the entire Tuscan region.