Home > Europe Destination > Italy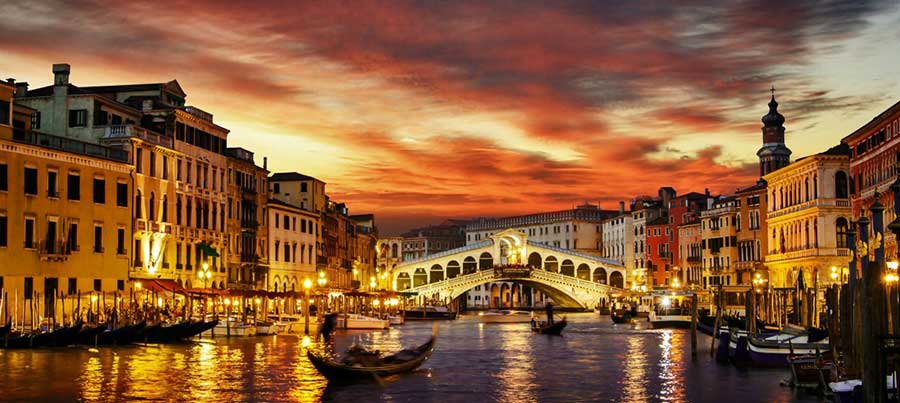 Hertz in Italy
Famed for its culinary delights, historic discoveries and the beautiful outdoors, Italy is an essential stop for anyone keen to soak up some European culture. Whether you're looking to explore the roots of Ancient Rome, or relax in the north at Lake Como, renting a car in Italy is the perfect way to take in everything on offer.
It's incredibly easy to hire a car with us during your stay in Italy – you'll find us in all the major cities and towns, and at most airports, including Rome's Leonardo da Vinci-Fiumicino Airport and Milan's Milan-Malpensa Airport.
Simply choose your desired car online beforehand, and we'll have everything you've requested arranged for when you arrive. You'll get peace of mind thanks to a 24-hour helpline, there are no hidden credit card fees, and with our NeverLost system, navigating along Italy's famous winding roads will be a breeze.
Driving in and around Italy
Whatever part of Italy you find yourself in, there's an enjoyable drive to be had. The country's terrain varies hugely, ranging from narrow rural roads to smooth highways which wind from one glorious city to the next.
The Strade Statali, abbreviated SS, is the Italian national network of state highways. One of the busiest sections of road is the Bologna-Florence autostrada – around 32,000 motor vehicles travel along this every day. It's part of the Autostrada A1, a major route which connects Milan with Naples. Some of Italy's other most-used routes are the Mont Blanc Tunnel, linking the Aosta Valley to Chamonix in France – this trans-Alpine route is especially important for transporting goods and supplies across Europe – and the A14 which stretches down the 'calf' of Italy's boot calling at the Adriatic's coastal towns.
It's worth noting that you may have to pay a toll charge on certain stretches of Italy's autostrade – you can find out all about the fees you may have to pay here.
When in cities, look out for signs which bear the words "zona a traffico limitato". These ZTLs for short are reduced traffic zones, and are off-limits to all but a few authorized vehicles. If you enter one of these zones without authorization you risk being fined. When you need to fill up the gas tank, don't panic if the filling station you pull up to is closed – the majority will close between 1pm and 3.30pm every day, as well as on Sunday afternoons, but there will usually be a number of self-service pumps.
A quick guide to Italy
As a country renowned for fashion, food and the arts, Italy is one of Europe's most-visited countries. From elegant Venice in the north to the historic port of Brindisi in the south, you'll never be short of things to do during a visit.
Culture of Florence and Pisa
Florence is known as the birthplace of European culture – it's here that the Renaissance first flowered in the 15th century. Not only that, but the city is home to some of the world's finest galleries, displaying works by world-famous artists in over 60 venues across the city. For arguably the most famous sculpture ever, head to the Accademia Gallery and witness Michelangelo's iconic David, created in the early 16th century.
Take an hours' drive west out of Florence and you'll be at the neighboring city of Pisa – an area famed for its architectural prestige. The unintended slant on the Leaning Tower of Pisa is the city's major attraction.
Italy's mountains, canals and lakes
With its 150 canals, beautifully colourful architecture and chic cafés, Venice is the perfect place for a romantic getaway. Take to the canals on a gondola ride, and explore everything this UNESCO World Heritage Site has to offer. Further north, head to the picturesque Lake Como and Lake Garda for a relaxing retreat in the Italian sunshine. Take in the quaint waterside towns and spend time laid out on the region's bounteous beaches. For those looking to try out the snow and summer sports in the Dolomite Mountains, Verona provides a wonderful stop-off before your skiing or hiking fix.
Big city fashion
Italy is a country famed for its connections to the fashion world, from the biannual Milan Fashion Week to the locally-made leather garments. Although many Italian cities have incredibly diverse offerings when it comes to shopping for the latest trends, Rome and Milan tend to lead the way.
Widely regarded as the European capital of couture, you'll find Milan the perfect place to scratch your shopping itch. Alongside the famed Galleria Vittorio Emanuele, Milan also has several outlet malls, including the Serravalle Designer Outlet, whose brands include Versace, Dolce & Gabbana, Calvin Klein and Guess. If you're lucky enough to be in the city in either February and March, or September and October, you'll be able to soak up the atmosphere of Milan Fashion Week, a twice-yearly showcase of the latest summer and spring, and autumn and winter trends.
At Rome's Castel Romano Designer Outlet, you'll find a huge mix of international and Italian brand names, including Roberto Cavalli, Furla, and Patrizia Pepe. Head to Piazza di Spagna for some of the city's finest designer retailers.
Exploring the Amalfi coast
As home to luxury car brands like Ferrari and Lamborghini, it's no surprise that Italy provides the roads for a fun driving experience. For unbeatable views, drive along the Amalfi coast, starting at Salerno, with its tree-lined seafront promenade. Head west and you'll soon arrive at Vietri sul Mare, a small town famous for its beautiful ceramics. This is where the main section of the coastal road begins; a twisting ribbon of tarmac which hugs the coastline, squeezing through tunnels and past colorful houses teetering on hillsides. In the town of Amalfi, wander around the Cattedrale di Sant'Andrea before pushing on to Positano, then head inland into Sorrento in the shadow of Mount Vesuvius.
Whether you're visiting Italy for sample of culture, clothing or for a scenic car trip, you're sure to find something that will make your trip a memorable one in this vibrant historical hotbed. Ready to book your trip? Click here.