< Back
USAA Members* save up to 25% off base rates**

USAA members get more. Enjoy premier savings, travel perks, and exclusive member benefits.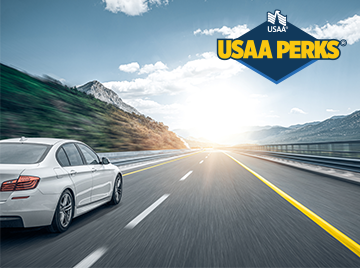 USAA Program Benefits Include:
Everyday savings of up to 25% off base rates at participating locations worldwide
Member Benefits:

Additional Driver fee waiver
Young Driver fee waiver (18-24)
Liability damage limited to $5,000
Premier travel perks when joining Hertz Gold Plus Rewards®.

Skip the line for a faster checkout***
Earn premium status the more you rent
Redeem points toward free rental days+
To book via phone or for additional questions about your reservation, call 1-800-654-9141 and reference CDP#77694.
Terms & Conditions:
USAA means United Services Automobile Association and its affiliates.
*Use of the term "member" or "membership" refers to membership in USAA Membership Services and does not convey any legal or ownership rights in USAA. Restrictions apply and are subject to change.
The USAA Perks program is provided through USAA Alliance Services LLC, a wholly owned subsidiary of USAA. USAA Alliance Services contracts with companies not affiliated with USAA to offer their products and services to members and customers. USAA Alliance Services receives compensation from these companies based on the sale of these products or services. When you purchase a product or service from one of these companies, that company is responsible for protecting your data and its processes and procedures may differ from those of USAA. These companies have sole financial responsibility for their products and services.
The trademarks, logos and names of other companies, products and services are the property of their respective owners.
**Discount applies to pay later base rates. Taxes and fees excluded. Terms apply. Click here for full terms and conditions. ***Available at select locations. Taxes and fees excluded. Terms apply. 240654-0223