< Back
Featured Offers
Under 25 Car Rental at Hertz!
It's a common misconception that drivers have to be at least 25 years old to rent a car. The truth is - Hertz rents cars to those 20 years old and up.*
Are you tired of relying on others for a ride? Hertz is here for you for all your car rental needs, whether it's:
A way to get around on vacation
Wheels to get back and forth to work
A road trip
Going home from school for the weekend
Going to a music festival or other fun event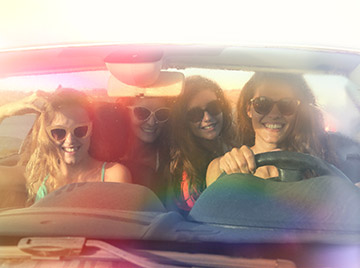 Here are some of the benefits Hertz rental car offers customers ages 20 and up and their families:
Fewer trips – Instead of having to drive long distances to pick up kids in college, just to turn around and drive back home, parents and family members can use Hertz to get their students where they need to be.
Stop relying on others for a ride – Take a weekend road trip, go see the concert you've been waiting for, or go home when it's convenient for you.
Convenient Access – Hertz vehicles can be rented at any of our airport or off-airport locations, which can be found near many college campuses and surrounding neighboorhoods. If you are a Hertz Gold Plus Rewards® member, you can:
See your name in lights at more than 50 of the world's busiest airports, skip the regular car rental counter at most locations.
Show your license and pick up your keys at the designated Hertz Gold counter at more than 4,000 locations worldwide.
Choose a car you like better on the spot with Hertz Gold Choice®.
Enjoy expedited drop-off with eReturn.
Receive rental car updates or select an upgrade right from your phone with Mobile Gold Alerts.
To sign up as a Hertz Gold Plus Rewards® member, click here.
Terms & Conditions
*While Hertz happily rents to customers 20 and above, there is an added surcharge under some circumstances for renters between 20 and 24 years old. This added fee is subject to change based on the type and location of the car rental.