Turkish Airlines (TK)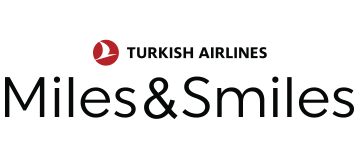 Earn Miles when you rent with Hertz.
Get to your Let's Go moments.
Wherever the destination, it starts with top-rated vehicles to fit every traveler's needs. Enjoy a seamless experience and go wherever the road may lead in a car you choose. Choose from thousands of neighborhood and airport rental car locations. 
Rent a car with Hertz and earn miles with Turkish Airlines Miles&Smiles loyalty program.
Earn 500 Miles on qualifying Hertz car rentals of 1-6 days.
Earn 1,000 Miles on qualifying Hertz car rentals of 7 days or more.
Start earning miles and special Hertz car rental offers when you book online.
Visit www.hertz.com/turkish or select your membership tier below.
Enter your Miles&Smiles membership number at the end of the booking process.
Present your Miles&Smiles membership card when picking up your vehicle.
Click your membership tier below and book now.

Customers in Turkey can also call Hertz on +90 (216) 349 30 40.
More on Miles
Miles awarded on qualifying retail rentals at participating locations worldwide. Qualifying rentals exclude all other discounts, promotions, bonus rates, tour package rates, wholesale rates, travel rates, corporate rates or any other special rates. Customers must present their Miles & Smiles membership card at the Hertz counter upon rental pickup.
Retroactive Miles Claim
A retroactive credit can be issued up to 6 months after a rental by completing the Retroactive Credit Form.