Home > Hertz Business Partner Benefits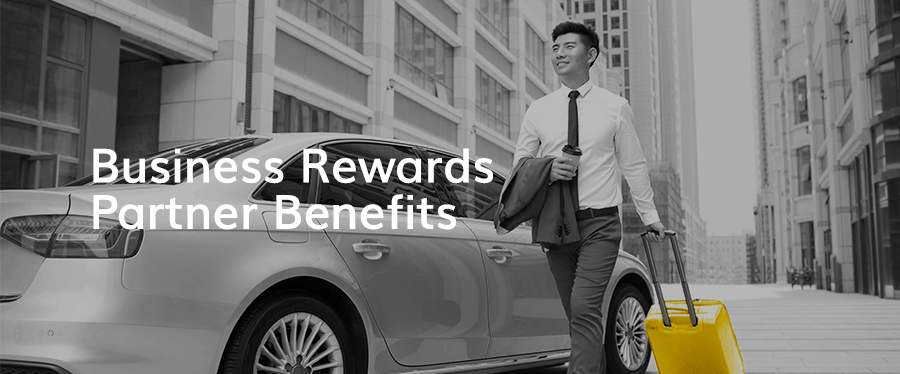 Enjoy access to perks beyond car rentals.
Unleash the full power of Hertz, including access to our trusted partners, to give you a competitive edge in every area of your business.
Hertz Business Rewards Partners

Take your travel budget further with Delta, and enjoy 10,000 bonus points when you enroll in SkyBonus, Delta's business travel program, by December 31, 2019*. These points can be used toward flight certificates, upgrades, drink vouchers, and Delta Sky Club® memberships. Once you join, your company earns points for every dollar spent on all eligible employee flights on Delta and its partners – all while your employees continue to earn miles in the SkyMiles® program. Enrolling is free and only takes a few minutes. Trust us, it'll be one of the easiest business decisions you ever make. Enroll in Hertz Business Rewards and start enjoying your Delta SkyBonus benefits.

Enroll today and earn 10,000 SkyBonus points after your first flight, enough for 10 beverage coupons for you and your employees.

Benefits of Delta's Business Rewards Program:
Free program enrollment
Reduces business travel expenses
Earn points immediately (quick & easy)
Earn points for every $ spent
Redeem points for 65+ types of travel rewards
*SKYBONUS TERMS & CONDITIONS
To qualify for this promotion, companies must be based in the U.S. or, Canada with a valid Federal Tax ID or VAT number, enroll by 12/31/19 at skybonus.delta.com and purchase and fly on a qualifying flight within 60 days after enrollment. Bonus points may only be earned once and will be credited automatically to the account associated with the ticket issued and flown. SkyBonus points are awarded based on eligible dollars spent for qualifying flights. Qualifying flights include tickets and flight numbers validated on Delta (ticket number begins with "006"), Air France ("057"), KLM ("074"), Alitalia ("055"), and Aeromexico ("139"). Eligible dollars are defined as base fares (selling fare, net of all taxes and fees) plus carrier-imposed surcharges, prorated per flight segment and rounded down to the nearest whole number. Other exclusions may apply. Companies with a Delta, Air France, KLM, Alitalia, or Aeromexico Preferred Carrier Agreement, travel agencies, and other sellers of travel are not eligible for SkyBonus. Subject to change or withdrawal without notice. All SkyBonus program rules apply and are available at skybonus.delta.com. Contact the Business Rewards Sales Team at 1-888-777-3807 or hertzbusinessrewards@hertz.com to get your Delta SkyBonus promotion code.

Ready to save on shipping? As a Hertz Business Rewards member, you're entitled to savings of up to 16%* on select FedEx® services. HBR is committed to providing value to our members – that's why we are working with the world's premier delivery service to bring you the flexibility and reliability of FedEx services at special discounts. Enjoy the following discounts with your HBR membership:
Up to 16% off select FedEx Express® U.S. shipping
Up to 13% off select FedEx Express international shipping
Up to 12% off select FedEx Ground® shipping
Up to 20% off select FedEx Office® services
Free packaging supplies
*FedEx shipping discounts are off standard list rates and cannot be combined with other offers or discounts. Discounts are exclusive of any FedEx surcharges, premiums, minimums, accessorial charges or special handling fees. Eligible services and discounts subject to change. For eligible FedEx® services and rates, please call 1.800.GoFedEx 1.800.463.3339. See the applicable FedEx Service Guide or FXF 100 Series Rules Tariff for terms and conditions of service offers and money-back guarantee programs.

Looking to grow your business? Hertz Business Rewards members save 25%* on Salesforce Essentials, the #1 customer relationship management (CRM) tool, reimagined for smaller companies. So it's easier than ever to win new customers, manage them more efficiently, and keep them happier.

Salesforce Essentials helps you:
Start instantly with easy setup
Sell smarter and faster with built-in intelligence
Provide standout service for every customer
Scale with ease on world's #1 CRM platform
Sign up for a free 14-day trial today to see how Salesforce Essentials can help you grow. No credit card required. No software to install. Once you're ready to embark on the road to success with Salesforce Essentials, you can get 25% off of your first annual subscription (that's 3 months FREE!) for being a Hertz Business Rewards member.

* This discount is applied to the first annual subscription only. Offer available only for new Salesforce Essentials edition customers. This one-time discount requires an annual contract. Offer may not be combined with any other offer and subject to change without further notice. Restrictions apply.

Hertz Business Rewards members can save on parking when traveling for business when they join the SpotHero for Business program. Book parking at airports, hotels, and offices directly through the app, and when you get back to the office, save time on expense reports with automatic reservation reports sent straight to your email. Finding your next parking spot just got a little bit easier.