< Back
Experience a different level of elite service.
For our FBO and general aviation customers, time is money. That's why a seamless travel experience is imperative.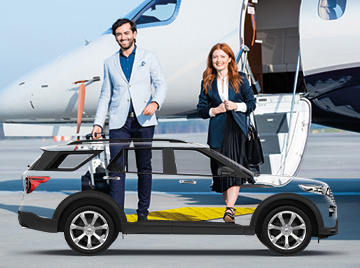 Never break Stride
From our high-end fleet to award-winning service, rent assured; we have it under control, leaving you to focus on what matters most.
Arrive in style.
Whether for business or leisure, travel confidently knowing we go the extra mile to provide you an elevated, white-glove experience.
Vehicle Delivery & Pick-up
Get behind the wheel of your sanitized car as soon as you step off the jet. We'll have one of our premium models waiting for you so you can hit the road as soon as you land. For large-size SUVs and specific model requests, kindly provide eight-hour notice. When it's time to head home, leave your rental on the tarmac. We'll take care of the rest.
Safer, Faster, Easier
Whether renting from an FBO, one of our neighborhood locations or from an airport – enjoy a safer, faster, easier experience. Hertz Gold Plus Rewards® members get the best of Hertz on every rental.
Free to enroll, benefits start from day one. Join Now