< Back
AAA Offers
AAA members who are Gold Plus Rewards members get points toward 2 free days.*

Hertz. Let's go!


Enter your zip code for us to find your AAA CDP:
AAA Website serves this area.
Your CDP has been applied
No CDP found, please try again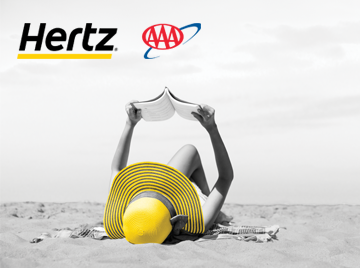 AAA Members receive exclusive savings, superior service and the following value added benefits*:
Valid for bookings from 5/9/2022 through 6/20/2022
Valid for pickup through June 30,2022.
Include HGPR number in reservation. Not a GPR member. Join Now
Blackout periods apply.
You must present your AAA Membership card at time of rental.

Additional Terms and Conditions apply. Please see below for full details.
Terms & Conditions:
*Advanced reservation required and must include AAA Club discount code (CDP#), PC 210742 and HGPR number to get the free days. The 1,500 points (two free days) will be added to HGPR account after 60 days. Free day excludes taxes and fees. Benefits and discounts are redeemable at participating Hertz locations in the United States and Canada. Offer is valid for bookings from 5/9/2022 through 6/20/2022, vehicle pickup through 6/30/2022. Additional terms may apply. At the time of rental, present your AAA Membership card for identification.