What is Hertz Local Edition or HLE?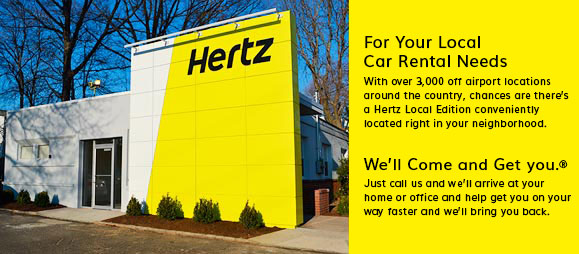 Suburban Location
When you see "Hertz Local Edition" or "HLE" on our website or throughout your reservation process, this simply means that the location is not at an airport. It is an off-airport, neighborhood location. With over 3000 off-airport locations to serve you, there is a Hertz rent-a-car location near you.
Hertz off-airport locations offer the same great cars and service that you enjoy at the airport, with a few added benefits. Some of the great benefits offered at most locations, include affordable leisure rates, unlimited mileage, one way rentals and clean vehicles with low mileage.
Did you know Hertz also offers convenient customer rental car pickup and return service if you are within 15 minutes of the location? This service is exclusive to our off-airport locations, so if you need a ride to Hertz, be sure to call us to pick you up (available at most locations).
Is your car in the shop for repairs? Your local Hertz stores offers special accident rental rates and direct billing to insurance companies and dealerships to help you get back on the road quickly and hassle free. Call Hertz first for a rental car should you need wheels while your car is out of commission.
To find a Hertz location near you, search here. If you see "HLE" after the name, that is your off airport location near you.
Need to book a replacement car now? Click here.
We're Hertz, They're Not®