Home > Europe Destination > France > Paris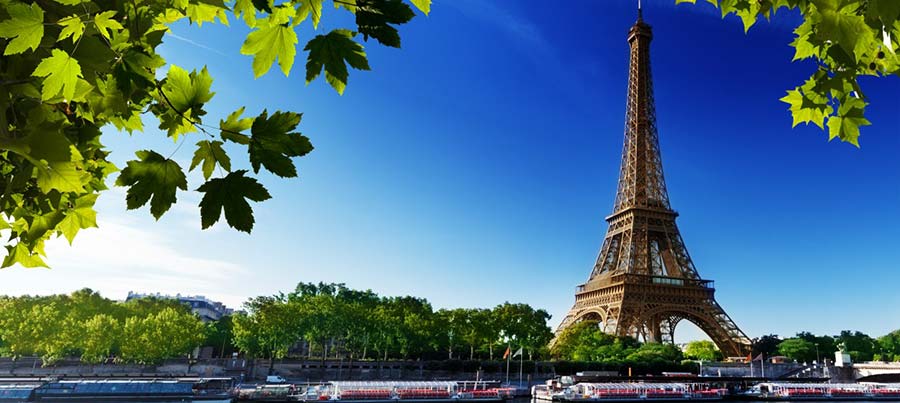 Hertz in Paris, France
One of the world's best romantic getaways, Paris is a chic metropolis famous for its wide, tree-lined boulevards, historic monuments, and fantastic shopping. And the perfect way to take in everything this captivating blend of different cultures and, cuisines has to offer to rent a car in the city.
With almost two dozen easily-accessible branches suited across this sprawling city, including at key locations such as Orly Airport, Paris Charles de Gaulle Airport and the Gare de Lyon Railway Station, you can be sure of finding us.
We know you want to be on the road as soon as you arrive in Paris, that's why our service is straight-forward. Simply choose your desired rental vehicle online before you arrive and we'll have everything ready for you. You'll enjoy a great range of benefits, including the ability to cancel or amend your booking without incurring additional charges*. And with our 24-hour helpline in case you need us, renting a car with us is a stress-free process.
*When the booking is amended or canceled within seven days of being made.
Driving in and around Paris
Thanks to an easy-to-navigate inner-city road system and extensive routes for those looking to explore wider France, you'll find driving in your rental car in Paris simple.
One of Paris's busiest roads is Boulevard Périphérique – a four-lane ring road which takes traffic around the capital. Encircling the entire inner-city, you'll find this loop road the perfect way to get from west to east, or north to south. Boulevards des Marechaux, a smaller circular road made up of a series of suburban streets, runs inside Périphérique and acts as a good point with which to find your bearings in central Paris.
Inside the city, the most famous road is the Avenue des Champs-Elysees, a beautiful, two-kilometer road which has the glorious Arc de Triomphe monument at one end and the Place de la Concorde, with its enormous fountain, at the other. It's worth noting, however, that during peak times this route may become congested with traffic.
The A86, located outside of the Périphérique just south of the Saint-Denis suburb, is a larger ring road with connections to several of France's busiest highways, including ones which lead to Lille, Versaille and the smaller towns which surround Paris.
You'll need to make sure you're carrying all the correct documentation whilst driving your rental car in Paris, as the local authorities may routinely ask to see these.
Although the driving rules and regulations are in line with those across the rest of France, there have been new laws brought into practice over recent years – you can find out everything you need to know here.
A quick guide to Paris
Whether you're planning on using your rental car in Paris to explore the city's 20 arrondissements or simply spending a few days taking in the iconic monuments, galleries and museums of the city center, there's plenty to do in and around Paris.
Magnificent monuments
The exemplary buildings that fill its landscape all bring something different to Paris, with many situated in the heart of the city. The Panthéon, a mausoleum in the Latin Quarter, is a great place to start - its position on a hilltop will help you to get your bearings, as you look out on the city in its entirety from this scenic spot. The Eiffel Tower is the city's most charming landmark; visitors to this wrought-iron structure can take an elevator to the top floor, 905 feet above the ground. The Tower is just two kilometers from the Arc de Triomphe, standing in the middle of Place Charles de Gaulle and originally built to honor the French armed forces.
Exploring the Parisian art scene
The city's most famous cultural attraction – arguably in the whole world - is undoubtedly the Musée du Louvre, the home of the Mona Lisa. Here you can cast your eye over priceless treasures from all over the world, including Egyptian mummies, Mesopotamian antiquities and Renaissance paintings dating back to the early 19th century. The ultra-modern Centre Georges Pompidou contains collections of both classical and modern art; you'll find everything in this unique building from video installations and sculptures to watercolors and performance art.
To learn more about Parisian artists, head to the Musée d'Art Moderne de la Ville de Paris, in the east wing of the Palais de Tokyo. You'll find modern sculptures and paintings by some of the city's most famed talents, with exhibits of art deco furniture and ceramic work.
Local delicacies and cuisine
Paris is famous for its food, whether it's the warm, crusty baguettes baked by the city's many boulangeries or the mouth-watering gateaux in the windows of the numerous patisseries. But these aren't the only treats to enjoy in the city.
The streets around Place Saint-Michel in the Latin Quarter are renowned for serving great local dishes at fantastic prices – savor the selection of home-made soup, cured meats and cuisses de Grenouille (frogs' legs). Enjoy the small independent cafes and restaurants that line Rue St-André des Arts, and with plenty of outside seating, it's the perfect place to spend a sunny afternoon. To experience the finer side of Parisian dining, head to the Champs-Elysees and surrounding streets, where you'll find some of the city's Michelin-starred restaurants, including Alain Ducasse au Plaza Athénée.
Peaceful outer Paris
If venturing beyond the heart of Paris in your rental car is on the agenda, you won't be disappointed. Take a short drive out of the city and swap the hustle and bustle of Paris for the peace and tranquillity of national parks and historical sites.
Within the Île-de-France region, visit Haute Vallée de Chevreuse Regional Natural Park – a quaint valley steeped in natural beauty and rich heritage. Explore the many historical sites of the region, with Chateau de Breteuil and Chateau de Dampierre showcasing period décor; look out from the castles' walls to soak up the breath-taking views across the valley. If you're looking for more of an adventure, head out to Rambouillet Forest and hike through the woodland trails. Or for adrenaline junkies, hit the forest on two wheels and try out some of the area's mountain bike routes.
Known as much for its scenic landmarks as it is for its cultivating culture, a trip to Paris is a different and amazing experience every time you visit – which can't be just the once. Ready to book your trip? Click here.