This is more than just your ordinary GPS. The award-winning Hertz NeverLost® has up to date weather forecasts and current flight status information at the push of a button. With all of this technology at your fingertips, Hertz NeverLost® is a must for any car rental.
✓ Hertz locations preloaded for easy return
✓ "Concierge Assisted Routing," an on-demand service that creates and sends routes wirelessly to the NeverLost® GPS
✓ Over 6.5 million points of interests including Popular Chains™ and local sights
✓ Up to date weather information locally or in any US city
✓ Latest flight statuses including delays at airports
✓ Securely preinstalled for convenience
Visit www.neverlost.com to start mapping out your next trip or call 800-823-2547 and let our concierge team take care of it for you!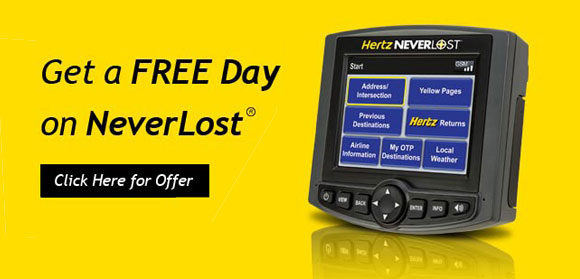 Hertz NeverLost is subject to availability. Nominal fee of US $12.99/day, CAD $15.99/day.
Get Lost in the Memories, Not Along the Way