Hertz Local Edition® (HLE)
For Stress Free Accident Rental Rates and Reservations, click here.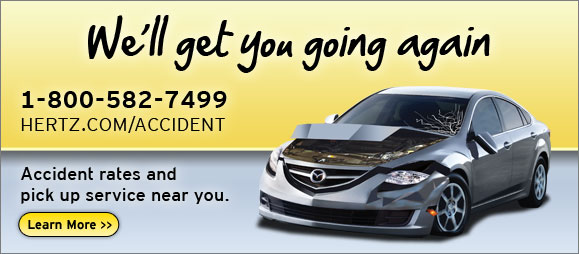 No matter who is at fault, car accidents can be stressful.  That is why we're committed to getting you back on the road fast and hassle free.  At Hertz Local Edition, we provide the same great service you expect from us and lots more.  We'll come and get you®--at your home, office or body shop, and we'll bill through your insurance company.  It's stress relief when you need it most. 
Some no worry benefits you'll find at Hertz Local Edition (HLE) include:

• Low accident rental rates
• Direct billing to insurance companies and dealerships
• Affordable customer pay rentals
• Clean, good quality, low-mileage vehicles with many features
• Guaranteed availability
• Convenient Customer Pickup and Return Service available within 15 minutes of the HLE location

 For immediate stress relief, call 1-800-582-7499